My Blog
Posts for: February, 2018
By Procare Family Dental
February 17, 2018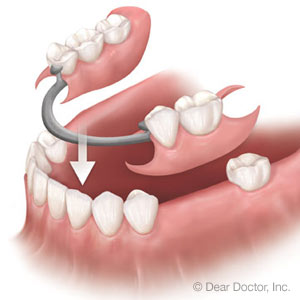 Dentures, removable restorations for missing teeth and gum tissue, can take a number of different forms, but are usually of two different types: complete and partial. A complete denture replaces all the teeth in a given arch. A removable partial denture (RPD), on the other hand, replaces several missing teeth while using the remaining teeth as support.
A common type of RPD formed of plastic is known as a "flipper" because it's lightweight enough to be "flipped out" or moved around with the tongue. They serve an important purpose as a temporary appliance for use between periodontal treatment, implant placement and similar treatments before obtaining a more permanent restoration. In fact, they're often referred to as "transitional" RPDs because they're not designed for permanent tooth replacement.
Because of their low cost relative to other restorations, however, they often become the permanent choice for many people. While a well-constructed, properly fitting RPD in a healthy mouth can be an affordable alternative for people on modest budgets, their long-term use may increase the risk of dental disease and accelerated bone loss. Decades of research verify that people who permanently wear RPDs encounter more tooth decay and periodontal (gum) disease than non-wearers.
This is because the attachment points of a plastic RPD to remaining teeth increases bacterial growth, which can cause both tooth decay and gum disease. This doesn't only endanger the survival of the remaining teeth, it can lead to bone loss that will affect the RPD's fit.
While the better course is to consider RPDs as a stepping stone to dental implants or a fixed bridge, there's an intermediary RPD constructed of cast vitallium or gold alloy that could be considered a permanent choice. These are even lighter weight than plastic and less obtrusive in their attachments in the mouth, which can reduce plaque stagnation and promote a better oral environment.
Regardless of your choice in dentures, it's always important to maintain good consistent oral hygiene with daily brushing and flossing and semi-annual professional cleanings and checkups. Keeping a healthy mouth will help reduce your risk of dental disease and increase your satisfaction with your denture of choice.
If you would like more information on RPDs and other denture restorations, please contact us or schedule an appointment for a consultation. You can also learn more about this topic by reading the Dear Doctor magazine article "Removable Partial Dentures."
By Procare Family Dental
February 02, 2018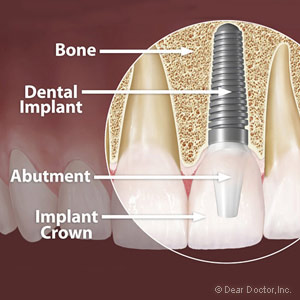 You're considering dental implants and you've done your homework: you know they're considered the best tooth replacements available prized for durability and life-likeness. But you do have one concern — you have a metal allergy and you're not sure how your body will react to the implant's titanium and other trace metals.
An allergy is the body's defensive response against any substance (living or non-living) perceived as a threat. Allergic reactions can range from a mild rash to rare instances of death due to multiple organ system shutdowns.
A person can become allergic to anything, including metals. An estimated 17% of women and 3% of men are allergic to nickel, while 1-3% of the general population to cobalt and chromium. While most allergic reactions occur in contact with consumer products (like jewelry) or metal-based manufacturing, some occur with metal medical devices or prosthetics, including certain cardiac stents and hip or knee replacements.
There are also rare cases of swelling or rashes in reaction to metal fillings, commonly known as dental amalgam. A mix of metals — mainly mercury with traces of silver, copper and tin — dental amalgam has been used for decades with the vast majority of patients experiencing no reactions. Further, amalgam has steadily declined in use in recent years as tooth-colored composite resins have become more popular.
Which brings us to dental implants: the vast majority are made of titanium alloy. Titanium is preferred in implants not only because it's biocompatible (it "gets along" well with the body's immune system), but also because it's osteophilic, having an affinity with living bone tissue that encourages bone growth around and attached to the titanium. Both of these qualities make titanium a rare trigger for allergies even for people with a known metal allergy.
Still, implant allergic reactions do occur, although in only 0.6% of all cases, or six out of a thousand patients. The best course, then, is to let us know about any metal allergies you may have (or other systemic conditions, for that matter) during our initial consultation for implants. Along with that and other information, we'll be better able to advise you on whether implants are right for you.
If you would like more information on the effects of metal allergies on dental implants, please contact us or schedule an appointment for a consultation. You can also learn more about this topic by reading the Dear Doctor magazine article "Metal Allergies to Dental Implants."