My Blog
Posts for tag: oral health
By ProCare Family Dental
August 05, 2019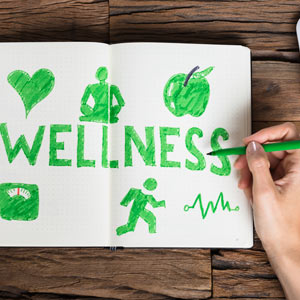 August is National Wellness Month. Since part of staying in good overall health is taking care of your dental health, it's a good time to look at ways you can improve and maintain your oral health. Here are some tips:
Practice good oral hygiene. A fundamental key to a long life of healthy teeth and gums is keeping them clean of dental plaque. This thin biofilm of bacteria and food particles is the number one cause of tooth decay and periodontal (gum) disease. Brushing twice and flossing once each day gets rid of that unpleasant grittiness and reduces your risk of disease.
See your dentist regularly. A good daily oral hygiene habit works best at controlling soft plaque. But any that you miss—a possibility even with great brushing and flossing skill—can harden into calculus (tartar). To remove it, you'll need professional cleaning by a dental professional. The American Dental Association recommends a comprehensive dental cleaning at least twice a year to fully minimize your disease risk.
Eat a low-sugar, dental-friendly diet. Oral bacteria love to feast on the leftovers from your eating, especially sugar. So, cutting back on foods with added sugar isn't just good for other aspects of your health, it can also help "starve out" bacteria and reduce their population in your mouth. You can also boost oral health by eating foods rich in minerals like calcium to maintain strong bones and teeth, and antioxidants that guard against oral cancer.
See your dentist at the first sign of problems. While hygiene, dental care and a nutritious diet can greatly reduce your risk of disease, it won't eliminate it completely. So see your dentist promptly if you notice red, swollen or bleeding gums, mouth pain or unusual spots on your teeth. The sooner you're diagnosed and treated, the less damage from dental disease and future treatment expense you'll endure.
Manage other inflammatory conditions. If you're dealing with a condition like heart disease, diabetes or arthritis, it could increase your risk of gum disease or make any occurrence of it worse. That's because gum disease and many systemic conditions share chronic inflammation as a common link. If an inflammatory condition is not managed through proper treatment, it could worsen any gum disease symptoms you have.
Pursuing wellness is a worthy goal—just be sure you include your oral health in the mix. A healthy mouth is a key ingredient for a healthy life. If you would like more information about gaining and maintaining optimum oral health, please contact us or schedule an appointment for a consultation. To learn more, read the Dear Doctor magazine articles "Daily Oral Hygiene" and "Good Oral Health Leads to Better Health Overall."
By ProCare Family Dental
March 08, 2019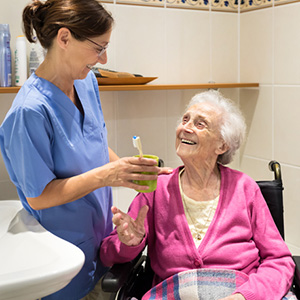 If you're the principal caregiver for an older person, you may have already faced age-related health challenges with them. Good preventive care, however, can ease the impact of health problems. This is especially true for their teeth and gums: with your support you're loved one can have fewer dental problems and enjoy better health overall.
Here are a number of things you should focus on to protect an older person's dental health.
Hygiene difficulties. With increased risk of arthritis and similar joint problems, older people may find brushing and flossing more difficult. You can help by modifying their toothbrush handles with a tennis ball or bicycle grip for an easier hold, or switch them to an electric toothbrush. A water flosser, a device that uses a pressurized water spray to remove plaque, may also be easier for them to use than thread flossing.
Dry mouth. Xerostomia, chronic dry mouth, is more prevalent among older populations. Dry mouth can cause more than discomfort—with less acid-neutralizing saliva available in the mouth, the risk for dental diseases like tooth decay or periodontal (gum) disease can soar. To improve their saliva flow, talk with their doctors about alternative medications that cause less dry mouth; and encourage your loved one to drink more water and use products that help boost saliva flow.
Dentures. If your older person wears dentures, be sure these appliances are being cleaned and maintained daily to maximize their function and reduce disease-causing bacteria. You should also have their dentures fit-tested regularly—chronic jawbone loss, something dentures can't prevent, can loosen denture fit over time. Their dentures may need to be relined or eventually replaced to ensure continuing proper fit and function.
Osteoporosis. This common disease in older people weakens bone structure. It's often treated with bisphosphonates, a class of drugs that while slowing the effects of osteoporosis can cause complications after certain dental procedures. It's a good idea, then, for an older person to undergo any needed dental work before they go on osteoporosis medication.
Keep alert also for any signs of dental disease like unusual spots on the teeth or swollen or bleeding gums. Visiting the dentist for these and regular dental cleanings, checkups and oral cancer screenings could prevent many teeth and gum problems.
If you would like more information on senior dental care, please contact us or schedule an appointment for a consultation. You can also learn more about this topic by reading the Dear Doctor magazine article "Aging & Dental Health."